It's a tall order restaurant architects fill — converting turn-of-the-century churches into hip hangouts or blending a client's national image with tastes local enough to lure Charlotte's brand of foodies. The challenge has only intensified as the Queen City's population continues to diversify; international tastes are making restaurants rethink their approach, transforming their menu from the traditional, down-home Southern fare of steaks, fried chicken, and barbecue that once dominated the food scene in Charlotte. Alongside changing menus, diners also expect a restaurant's atmosphere to enhance the dining experience. No group better understands this than the entrepreneurs – whether Mom-n-Pop or the power brokers of America's multi-billion-dollar fast-casual food industry – who've relied on trusted architects to make it all happen. Each of the architects listed below understands that while food and drink are a restaurant's main attraction, its décor can never be an afterthought.
Top Architects
---
ADW Architects
Featured Architects: John Watson, AIA, Robert Lauer, AIA, and Jim Powell, AIA
Address: 2815 Six Coliseum Centre Drive, Suite 500, Charlotte, NC 28217
ADW was founded in Charlotte in 1977 and credits its 40 years of success to a belief that "spaces shape our lives." Over the years, the firm has received more than 25 design awards from local and national award-giving bodies. The firm provides architecture, interior design, and master planning services throughout the US. Its portfolio is as diverse as the expertise it has gained: LEED certification for mixed-use, civic, educational, entertainment, public safety, and faith-based projects. The firm has taken on large-scale projects combining restaurants with large-box retailers like the White Oak Village in Garner, NC; Landstown Commons in Virginia Beach, VA; and Gateway Crossing in Avondale, AZ. ADW also displayed its consistent high-quality work by designing Travinia Italian Kitchen's multiple locations in the Southeast. Sustainable design has become a focus of principals Robert Lauer, John Watson, and Jim Powell; the firm meets or exceeds US Green Building Council LEED standards with every project. Its diverse client base includes the University of North Carolina and the Coca-Cola Bottling Company.
Featured Projects
Cutting-edge real estate developer The Ghazi Company retained ADW to handle the exterior and interior architecture for The Mez at Epicenter, at 210 E Trade Street in Uptown Charlotte. The 32,500-square-foot project consisted of a motion picture theater, two bars, multiple dining areas, and a restaurant. Critics praised ADW's "stunning atmosphere," the result of a secluded lounge, high ceilings, and panoramic midtown views. The Brixx Wood-Fired Pizza located in Charlotte's historic Dilworth neighborhood sought the ADW design team for the exterior and interior build-out of its 5,000-square-foot restaurant. ADW designed a bar, a wood-fired oven, an open kitchen, and an outdoor and indoor dining area that fit the fast-casual but fine dining atmosphere sought by the franchise.  Brixx Wood-Fired Pizza started in 1998 and now has more than 30 locations throughout the South.
---
Cluck Design Collaborative
Featured Architects: Kevin Kennedy, AIA, and Chris Scorsone, LEED AP
Address: 1523 Elizabeth Avenue, Suite 120, Charlotte, NC 28204
When cool vibes and serious professionalism come together, the result is Cluck Design, an unconventional architecture collaborative founded in 2004. Kevin Kennedy, AIA founded the firm as "a place to do good work." The firm handles projects ranging from urban planning to fast food design. Kennedy is a guest professor at UNCC, where he earned his bachelor's degree in architecture. Kennedy and his Cluck team have won numerous design awards from the AIA in the last five years. He was one of 50 architects whose drawings were featured in Digital Architecture, published by McGraw-Hill in 1999. Co-founder Chris Scorsone, LEED, is a guest critic at universities in the Charlotte area. Scorsone's rich background included working with Little Diversified Architectural Consulting's award-winning work on commercial, urban planning, and restaurant projects. He's been honored with two AIA Charlotte Merit Awards, a Southeast Construction's Best of 2005 Award for Best Private Design on the Billy Graham Evangelistic Headquarters, and a North Carolina American Society of Landscape Architects Honor Award.
Featured Projects
Cluck handled the architecture design for Suffolk Punch located on 2911 Griffith Street. The coffee bar/café-tap house owned by Hyde Brewing Company required an update. In the heart of historic downtown Waxhaw, at 115 East North Main Street, is the site of a former fire station that Kennedy and his crew turned into The Dreamchaser's Brewery, which opened in 2017. To maintain the building's history, Cluck turned the roll-up doors into the tap room's entrance and kept a diamond plate under the bar. The firm's design of the ultra-trendy burger joint Moo & Brew at Plaza Midwood was praised by Zagat for its rustic appeal and patio seating.  And Cluck won two AIA awards in 2017 for its sleek Southern-accented rendition of Haberdish, a restaurant built around a menu of fried chicken and biscuits. The design called for warm Edison lights to contrast the washed-brick walls, and white beams to connect the restaurant's interior to the patio.
---
D3 Studio
Featured Architects: Scott Betzold, AIA, LEED AP, Michael Baujan, and Laura Hoover
Address: 1318 Central Avenue, Suite A10, Charlotte, NC 28205
D3 Studio's forward-thinking designs have shaken up the Charlotte restaurant scene. Managing partner and owner Scott Betzold, AIA, LEED AP, earned his master's in architecture from Savannah College of Art and Design. He then spent 13 impressive years working with big-name firms in Charlotte. Betzold's architecture portfolio history includes working with Little Diversified Architectural Consulting, Reinhardt Architecture, a project architect with Shook Kelley, and returning to Little as project manager/architect of record. Partner Michael Baujan also worked as an intern at Little. Baujan received his bachelor's in design and architecture from the University of Florida and his master's in architecture from the University of North Carolina, Charlotte. Managing the interior department is director of interiors, Laura Hoover, with a bachelor's in interior design from Appalachian State University. Before coming to D3, she specialized in commercial design for ESD Architecture and the RBA Group Inc.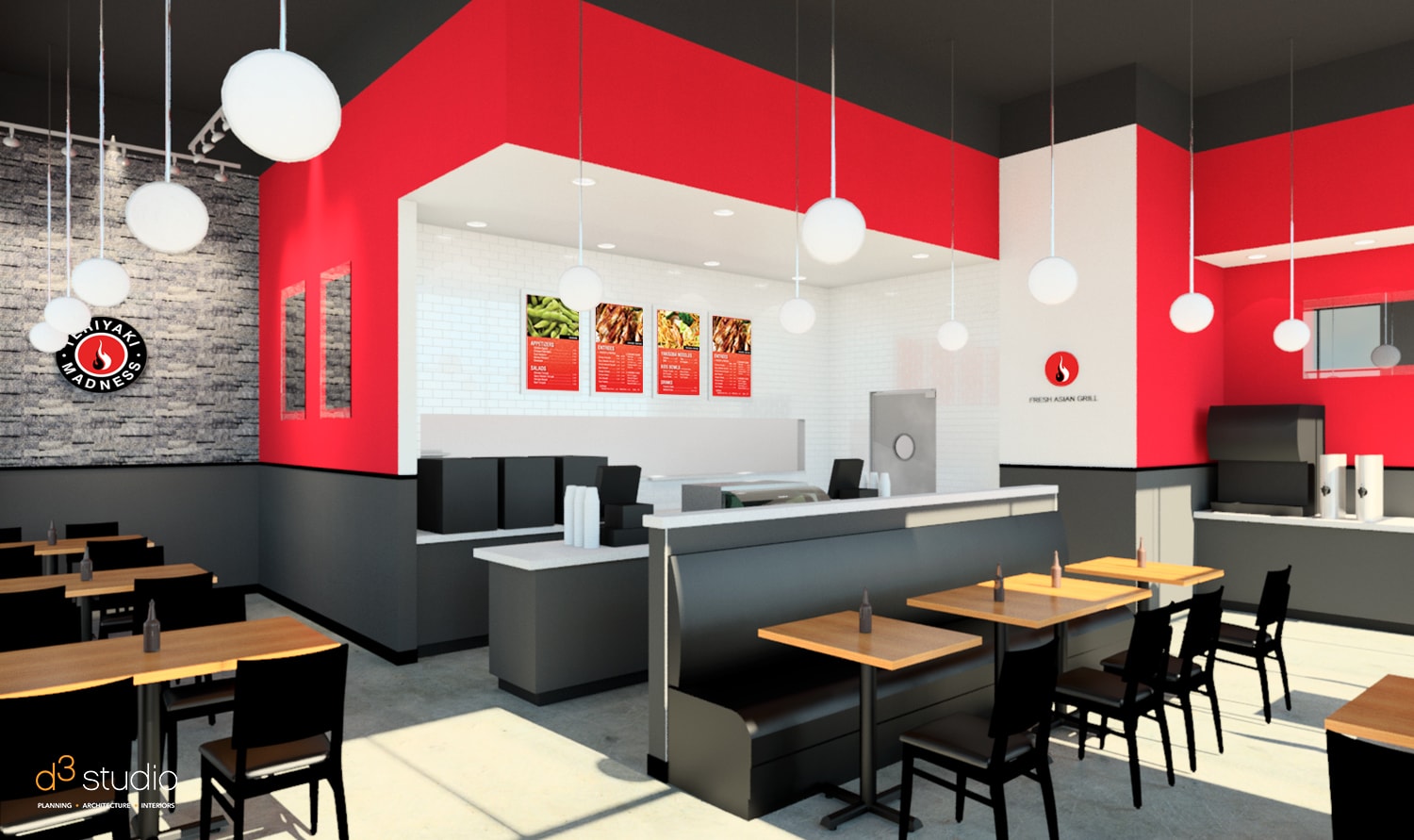 Featured Projects
D3 designed the 10,000-square-foot construction of Catawba Brewing Co. on Louise Avenue in the Belmont neighborhood. In addition to the main bar featuring 30 taps, D3 designed a second bar surrounded in glass to offer another 20 to 30 taps. Soaring ceilings with pendant lights, high pub tables surrounded by saddle wood stools, steel beams supporting the ceiling, and a stone floor left unfinished add up to a rustic ambiance. Denver-based, fast-casual Asian chain Teriyaki Madness wanted D3 to handle its first Charlotte location. Although the franchise has many venues, it wants each to look local. D3 maintained the chain's brand colors of red, black, and white. Its design called for globe lights in frosted white, gray stone walls, gray tile floors, and natural wood tables, to add an upscale vibe. 204 North on North Tryon in Uptown Charlotte is one of the city's trendiest new restaurant-bars. D3's plan calling for exposed ductwork to run down the length of the ceiling gave the establishment a decidedly homespun look.
---
Little Diversified Architectural Consulting
Featured Architects: Phil Kuttner, AIA, NCARB, LEED AP BD+C
Address: 5815 Westpark Drive, Charlotte, NC 28217
Little Diversified Architectural Consulting is an international design firm, with more than 375 employees, consistently ranking as one of the city's largest and most prestigious architectural enterprises. It provides in-house expertise in sustainable design, planning, land development, and architecture. Little has five locations in the United States and one in Beijing, China. It has been ranked by Architect Magazine as one of the Top 50 firms in the country. In 2013, it was the recipient of the North Carolina Firm Award, the highest AIA honor a firm can receive. Partner and Chief Executive Officer Phil Kuttner, AIA, NCARB, LEED AP BD+C, has served as a board member on AIA's Charlotte chapter and has been a featured speaker at the AIA National Convention and INC Magazine's CEO Symposium. Clients included Duke Energy, Bank of America, The Home Depot, Nike, and Time Warner.
Featured Projects
Little's work on the 7,000-square-foot Aria Tuscan Grill fetched the IIDA Carolinas Design Award. Aria's owners wanted the restaurant, located on N. Tryon Street in the Bank of America Corporate Center, to have a modern Italian atmosphere that evoked images of Tuscany. Little handled the exterior and interior architecture along with the brand communication and design, built around a theme of squares and angles to reflect the shape of the pizzas served. An upstairs lounge was fitted with polished dark wood tables and white chairs. Diners at the lower level can watch the award-winning chef and his team through large glass expanses. Located in Founders Hall on N. Tryon is the 5,500-square-foot City Smoke. Little's objective was to rebrand the restaurant into a smokehouse, speakeasy, and rotisserie, which was accomplished through an open kitchen, lunch counter-style eating, custom signage/lighting, and a custom millwork bar. Also located in Founders Hall is Taste, which occupies 11k square feet on the third floor. This upscale cafeteria boasts an elegant lounge and outdoor patio seating for patrons to enjoy views of the Charlotte skyline.
---
Miller Architecture
Featured Architects: Tony F. Miller, AIA, LEED AP
Address: 715 North Church Street, Suite 140, Charlotte, NC 28202
LEED-accredited Tony F. Miller founded Miller Architecture in 1995. Over the last 25 years, the firm has designed countless award-winning commercial and restaurant outlets. He's certainly completed enough of them – at least 31 in North Carolina alone, and most of these were in Charlotte. The eateries range from small Mom-and-Pops to hotel kitchen upfits and new breweries. Miller Architecture's recognitions in the last few years include the National Awards of Excellence from BALA Best in American Living, the National Association of Home Builders Award, and the Top Honors from CWB Custom Woodworking Business for Millwork Interiors. In 2016, Miller was honored with the ARDA Award for Outdoor Living Design from the AIA. The full-service architectural and design firm has NCARB accreditation in North Carolina, Florida, and Georgia.
Featured Projects
Miller's restaurant designs range from adding hibachi preparation stations to designing interiors that reflect unique branding concepts of such Charlotte establishments as The Pump House, American Burger Company, Bad Daddy's Burgers, Living Kitchen, Wild Wing Cafe, Yama Izakaya, Midwood Smokehouse, and Yafo Kitchen. No project is too small, such as when Kathi Alexander, owner of the wildly popular SUGAR doughnut shop, decided she needed another location to keep up with Charlotte's doughnut hysteria. Miller built her a "pop-up" production and take-out facility, which opened in October 2015. A bigger challenge was the design of one of Charlotte's hottest dining locations, Sea Level Restaurant, a 5,500-square-foot eatery in the Hearst Tower off Fifth Street in Uptown. Miller's client wanted an atmosphere that connected diners with the marshes that gave birth to the fresh seafood they were consuming. Miller's design fit the bill because it combined oyster shell colors with industrial light fixtures, brick and wood accents, a "crushed oyster" wall, and a palette of oyster shell colors. In 2015, the third Viva Chicken restaurant he's designed for the fast-growing franchise opened at Northcross.
---
Spencer Architect
Featured Architects: Constance Spencer, AIA
Address: 11031 Cattail Bluff, Tega Cay, SC 29708
Nationally-praised businesses are repeat customers for Canadian-born, Cornell, Yale and Harvard educated Constance Spencer, AIA, BEnvD, M. Arch, who works in nearby Tega Cay, South Carolina. Spencer founded Spencer Architect on sole proprietorship in 1999. She moved to the United States after she had already established two practices in her native country. A true specialist in restaurant design, she's handled custom concepts, commercial kitchens, franchises, night clubs, country clubs and sustainable container designs. Sparkman Wharf, The Grove, Taco Habitiat, Myers Park Country Club, and Olde Mecklenburg Brewery are recent projects featured in the news and publications. There were also franchise locations for Wolfgang Puck, Char Bar, Qdoba, SmashBurger, Yoforia, Einstein Bros. Bagel, Salsaritas, Tupelo Honey, Hickory Tavern, and McAllister's Deli. Added to that list are various custom restaurants she's designed in Charlotte alone. When she's not busy creating cutting edge designs, Spencer spends her time contributing to The Huffington Post. Her January 2017 article, "An Unconventional Architect," indicates a maverick streak has driven her colorful career.
Featured Projects
Spencer's design of the Southside Drive location of The Broken Spoke, a bar that features typical pub fare, premium crafts, and homegrown spirits, lets patrons relax on oversized leather couches as they enjoy the Irish distilling-themed atmosphere. The 3,500-square-foot Italian panini café Blue Basil at the Cotswold Village Shops and the Just Fresh Kitchen Bistro, a health-oriented café with seven locations in Charlotte, both required counter-serve designs. Major renovations were required for the design of the upscale Bonterra Dining and Wine Room on Cleveland Avenue, which was converted from an old church building in Dilworth. Spencer's elegant and romantic design of the structure, which was built in 1895, kept the high ceilings and created a side patio and private balcony to host weddings and private events for up to 175 guests.
---
Starrdesign
Featured Architects: Steve Starr, Mimi Williams, and Brie Carlson
Address: 1435 West Morehead Street, Suite 240, Charlotte, NC 28208
One of Steve Starr's first architectural experiences in Charlotte was running the restaurant and design studio of Little Diversified Architectural Consulting. The award-winning designer and author moved from New York City to Charlotte in 1996 and spent 11 years with Little Diversified. In 2007, he founded Starr Design, a full-service firm that handles national-level high-profile projects. Starr received his bachelor's in architecture from the UNCC and Washington University in St. Louis. Associate Partner Mimi Williams graduated with a bachelor's in architecture from the University of Tennessee. Brie Carlson, also an associate partner, got her bachelor's in design from Clemson University and her master's in architecture from the University of Michigan. In 2013, the firm received design awards from the Association of Retail Environments for the signs and lighting used at Zoe's Restaurant. Starr's designs have appeared in Modern Restaurant Management and Charlotte Business Journal. The firm was given a guest column on Fastcasual.com, a blog devoted to news and events in the restaurant industry. Among its long list of famous clients are Pandora, Dean & Deluca, and television personality and chef Giada DeLaurentiis.
Featured Projects
Starr was the corporate architect for the six Charlotte locations of health- and Mediterranean-themed Zoe's Kitchen. The design will serve as the template for the quick-serve franchise's other locations. Starr also handled the environment, graphics, interiors, and patio design for Tupelo Honey Cafe based in Asheville. The brand started in 2000 and now has four locations in North Carolina.
Other Starr-designed projects include two Mellow Mushroom locations: one Uptown—near Charlotte Knights Stadium—and the other in Ballantyne. Starr created a 1960s space-age theme with wall murals, hanging art, life-size rockets, smoke-producing illuminated glass towers, dark purple ceilings, mosaics, and hammered brass surfaces. For Brixx Wood-Fired Pizza locations in Charlotte, the goal was to design an interior that would update the brand concept around a family theme. This was accomplished with booths and a chalkboard for children to draw on. New York-based Italian brand Dean & DeLuca wanted to change the market cafe concept into a cafe/full-service theme. Starr revamped the wine room to serve as a full-service dinner location. The design turned into a prototype for the brand's other locations nationwide.
---
The Johnson Studio At Cooper Carry
Featured Architects: Bill Johnson, AIA, Brian Finkel, AIA, NCARB, and Anita Summers, AIA
Address: 191 Peachtree Street, Suite 2400, Atlanta, Georgia 30303
Soon after Bill Johnson, AIA opened The Johnson Studio At Cooper Carry in 1986, and it quickly became known for delivering award-winning hospitality and restaurant projects. Johnson received his bachelor's in architecture from the Georgia Institute of Technology. Johnson is joined by Associate Principal Keith Schutz, AIA who came aboard in 1995. He graduated with a bachelor's degree in Architecture from the University of Tennessee and brings an abundant background in hospitality, corporate, and educational design. Principal Anita Summers, AIA, received a bachelor's in architecture from North Carolina State University and has designed restaurants for Legal Sea Foods and the Ritz-Carlton. The firm's local, national, and international work is celebrated in numerous national and local publications for its fine details and high architectural standards. In 2015, the firm merged with acclaimed design firm Cooper Carry, which specializes in government, hospitality, and retail projects nationwide and in Africa, Asia, the Middle East, the Caribbean, and Central America.
Featured Projects
Rooster's Wood-Fired Kitchen occupies 5,000 square feet in the Bank of America Center's urban garden. Zagat has called it one of the best restaurants in the South today. The two-story eatery has a comfortable and casual atmosphere. Hand-forged iron, wooden wine racks built into walls, and furniture fashioned out of antique barn wood create a rustic element. Diners are especially fond of the communal seating, accent lighting, and warm wood tones. High on Zagat's rating is another Johnson project, Vivace, which serves sophisticated Italian cuisine on Metropolitan Avenue in midtown Charlotte. "Vivace" means "vibrant" in Italian, and that is exactly what Johnson's design achieved throughout the multi-level interior. Giant, glowing orange pendant lights run throughout an open dining area. The bar upstairs offers an exquisite view of downtown Charlotte.
---
Wagner Murray
Address: 601 S Cedar St. Studio #101, Charlotte, NC 28202
Over the past three decades, Wagner Murray has built its blue-ribbon reputation through hands-on service and innovative designs. Co-founders, David Wagner, AIA and Michael Murray, AIA both bring an extensive background in architecture that each generously shares with Wagner Murray's talented team of craftspeople. The firm's excellence in the field has not gone unnoticed: it is the recipient of a number of prestigious awards as well as press features from the Charlotte Business Journal. Wagner Murray specializes in the design and architectural planning of a wide range of sectors including civic & cultural, commercial, hospitality, retail, and restaurants.
Featured Projects
Wagner Murray provided architecture and interior design services for the Webb Custom Kitchen situated in the Historic Downtown Gastonia. The stunning 5,400-square-foot restaurant features a unique dining experience: modern luxury blended with authentic historical elements. It was originally built in 1927 as the Webb Theatre and has become an icon for the city's longtime residents. Today, cooking is regarded as performance, awaited by clients who act as audience members. The firm designed the restaurant to encourage the restaurant business showbiz side by creating a kitchen taking the center stage where everyone can see the live performance. Seating is arranged in intimate, high back booths against a backdrop of large scale, floor-to-ceiling arches. All this splendor is illuminated by abstract art deco light fixtures that pay homage to the building's rich past.
---
Watts Leaf Architects
Address: 101 N McDowell St. Suite #112, Charlotte, NC 28204
Watts Leaf Architecture has been in business since the 1980s specializing in multi-family, commercial, restaurants, and urban living architecture. The firm was co-founded by Charley Watts, AIA, and Chip Leaf, AIA, architects well-versed in creating forward-thinking designs that capture functionality and beauty. Watts brings over 30 years of professional architectural experience designing a diverse selection of projects. He graduated from the University of Virginia and is certified by the NCARB. Watts is a registered architect in North Carolina, South Carolina, Virginia, Maryland, and Kentucky. Meanwhile, Leaf graduated from the University of Carolina and is registered in North Carolina, South Carolina, and Tennessee. The firm's long list of clientele includes Wood Partners, Gingko Residential, Woodfield Development, and more.
Featured Projects
Watts Leaf Architecture's portfolio is filled with projects for high-end and industry-renowned clients. These include Harley Davidson, Columbia International University, and more. One of Watts Leaf Architects' projects is Showmars in Charlotte, a neat and spacious restaurant in 2004. Other restaurant projects include Showmars in CLT Plaza and Iron Thunder.
---
Wilber Associates
Featured Architects: Stephen Charles Wilber, AIA
Address: 20444 N. Zion Avenue, Cornelius, NC 28031
Stephen Charles Wilber, AIA, followed in the footsteps of his architect father when he opened Wilber Associates in 1985. Church design was his original focus, but as Northern Mecklenburg County's business sector started expanding, so did the firm's clientele. Soon, Wilber's focus became commercial buildings with a special focus on restaurants. Today, his firm—which relies on a handful of loyal and skilled employees—takes on projects in South Carolina, Virginia, Tennessee, Georgia, and Florida. Although the firm's geographic reach has expanded, their ability to offer functional solutions and small-town service to their clients hasn't changed. Its commitment to client satisfaction has brought the firm numerous recognitions and affiliations including the AIA, NCARB, North Mecklenburg Chamber of Commerce, and more. In 1997, the firm won the town's Small Business of the Year award. Wilber is a past member of the Planning Board and the Land Use Steering committees in Cornelius.
Featured Projects
Jeff Lancaster wanted to erect a restaurant dedicated to his father and restaurateur Bud Lancaster that wasn't another "lifeless franchise." Wilber's firm rose to the occasion, designing Jeffrey's Restaurant on Trade Street in Mooresville. The design of exposed brick walls, metal pending hooded lights hanging from bars, booths lining the perimeter, and an outdoor fireplace with patio seating created a good food, good times vibe for both levels of the eatery. Wilber was the most logical choice when Lancaster expanded on the famed Lancaster's BBQ, the restaurant his father had transformed from a former gas station into one of Mooresville's most popular dining spots. The design of the three-level, 10,000-square-foot Eastern-style BBQ – including a full bar and game room— centered around displays of racing memorabilia, a tribute to Mooresville's reputation as "Race City, USA."